We've been contacted by EaseUS again to take a look at another product of theirs. Since we've loved their products in the past we tough; why not? In the past we've taken a look at EaseUS Data Recovery Wizard, EaseUS Photo Recovery, Review: EaseUS Partition Master and more! So it's safe to say that we have experience with their products. In this review we are going to take a look at EaseUS MobiMover, the self acclaimed "Free iOS data transfer in the world for iPhone, iPad with Windows or Mac". Let's check if that's true (to be honest, we can't judge if it's the best one, since we did not review more) or just a marketing thing.
In this review we will take a look at the features of the tool such as the options you have, the performance and so on. Than we will take a look at the design of the product and to conclude the review we will take a look at the ease of use of EaseUS MobiMover.
Features
First of all we are going to take a look at for us the most important feature of the program; their "One-Click Transfer from iPhone to computer". While we would love to test the copying of files between two iPhones we simply don't have 2 available for that test at the moment. Important note; due to privacy reasons we use stock photo's in this review but we did verify if they reflect the product and they do.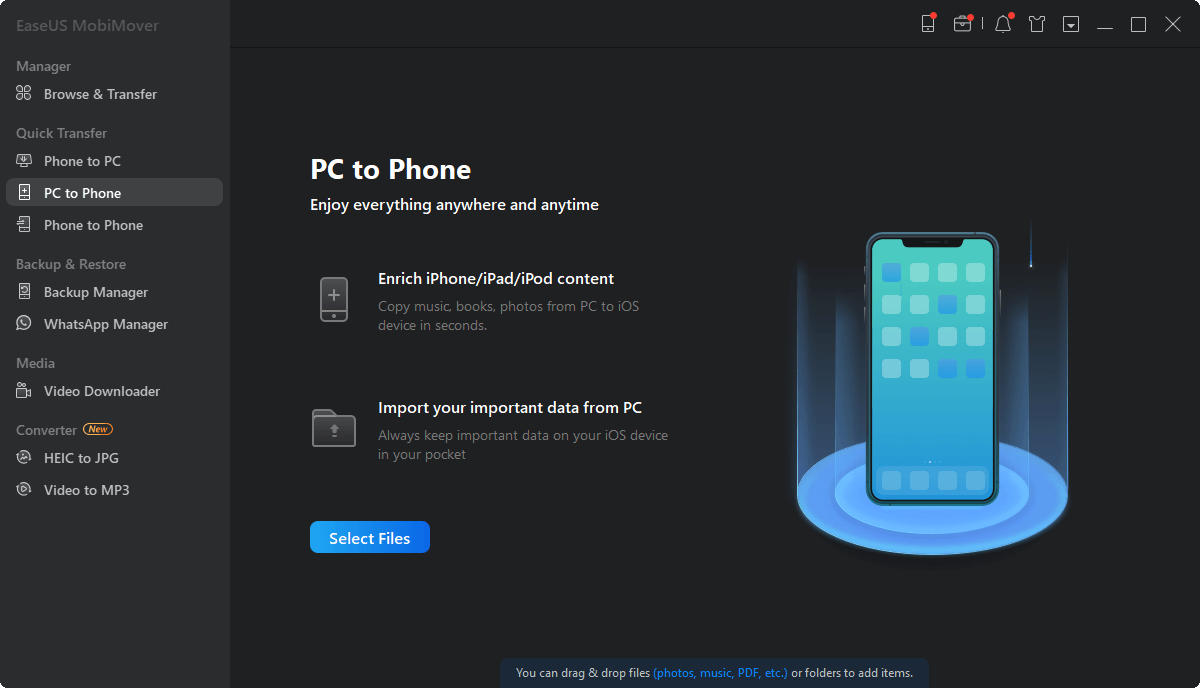 .
The one-click transfer feature is really one click if you don't want to change the folder locations or anything. you simply click on Next and you will be given the option to only transfer certain files like images, music, video's, bookmarks (we loved this), books and contacts. You than simply click on the transfer button and the process will start immediately. this process is quite fast (which depends of course on your iOS device and on your computer speed, but most systems should be able to saturate a USB cable). So is it really one click? Technically speaking no, you need to go through a wizard to start the transfer. However it's very convenience and it's around 3 clicks max, so that's not bad at all is it?
But perhaps you want a bit more control? Then you can go to the home screen to start the transfer yourself. You simply choose which kind of file you want to transfer to your iOS device and you will be given a full overview of all the files you can copy.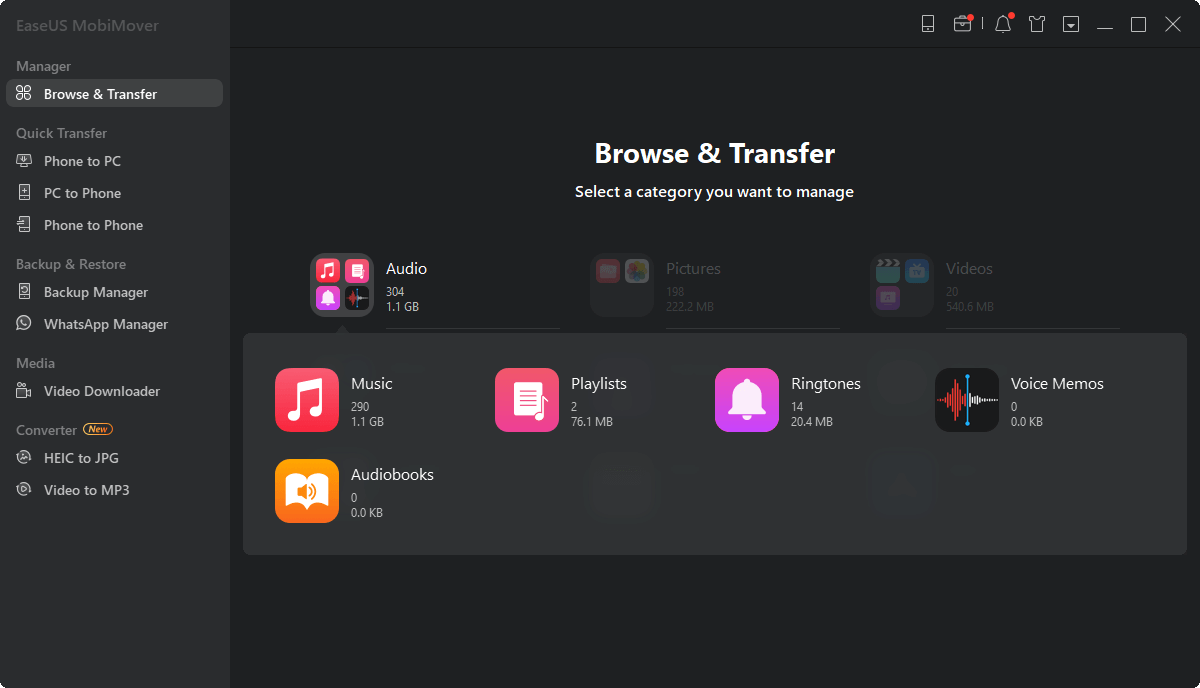 Overall we loved the product. It has all the features you might possibly need and the addition of the video downloader is very nice as well. Overall we would score the features, keeping in mind the performance, ease of use and their functionality a solid 9 out of 10. there is little roof for improvement in my eyes. However do check if downloading a video is legal in your country.
Design and Ease of Use
The program itself looks good. it's easy to use and very initiative. It give it's own swing at the Windows 10 style. While we do think that perhaps the design should be more simple (like we said with almost all EaseUS products) we do believe that they work well for everybody from novice computer users to people with little computer knowledge. We would score the design of the program a solid 8 out of 10. While the design is good it's not like most Windows 10 programs we think they should put some more attention in making it more Windows 10 like. However, for apple users who use only Windows for work the program should be very familiar as it does have some of those Apple characteristics.
The ease of use of the program is good, it helps you trough all the necessary steps you need to take and informs you quite well. I loved the mini tutorial when you first start the program, it gives you a good look at how basic functionality of the program works. We've come to take this for granted but a lot of program still miss it. Overall we would score the ease of use of this tool a solid 8 out of 10. There is perhaps a little room for improvement but not much.