Free download your own free copy of WinX MediaTrans! Join here.
WinX MediaTrans is an iTunes alternative for Windows, at least that's what they call it themselves (and The Easiest Way to Transfer Photos, Videos and Music between iPhone iPad and Computer.). So is this program truly a iTunes alternative for Windows? That is what we are going to find out in this article. We will be taking a closer look at WinX MediaTrans in this article and see which features it packs.
Features
First of all we need to determine if it has the same features as iTunes does (for managing your iPhone, we're not looking at the store), otherwise it's not a good alternative to be honest. With iTunes you can copy your music, photos, videos and make backups of your iPhone and according to the website of WinX MediaTrans should be able to do the same thing. We tried all the features that iTunes has and we did found out that indeed it does, but it does even more!. iTunes does not support two-way synchronization, automatic conversion of all types of media files, not only MP3, MP4, M4A en MOV like iTunes but all other media containers, (as far as we could test) and much more. So why would we bother you with comparisons. Let see some features that iTunes does not have.
Make your own ringtones for your iPhone
Using MediaTrans you can create your own ringtones for your iPhone. You simply choose a song you like and you then convert it into a ringtone as shown below on your example. Something I always loved to do before. Now a days I just personally use the pre-installed ringtones… So lets see if this program can create me a better ringtone than the default one.
You simply add a song, click on Make Ringtone and select the part of the song (a maximum for 40 seconds) which you want to transform into a ringtone and when your done you click on OK and sync it with your phone. The process is incredibly easy and we loved it. I got a sweet new ringtone on my iPhone!
File encryption
Another feature of MediaTrans is file encryption. At first I didn't know what to expect of this and what the functionality of it would be. However its a feature to encrypt photo and videos which you have exported from your iPhone to make sure that no unauthorized person can see what the content was without the master password. You can encrypt and decrypt files easily in the program itself and choose where to save them.
This can be useful if your share your computer with unknowns or family members and when you want to keep certain family pictures or video's private. However always keep in mind that if you lose the password that there will be "no way" to decrypt the files.
Other functionality
Some other features of MediaTrans is the possibility to use your iPhone or iPad as a flash drive to move files from computer to computer. To be honest it's a quite expensive flash drive but it can be handy for copying something quick if your lost your normal flash drive. You can also remove drm protection from files however please consult your local laws about this, we will not further discuss that here. However it also supports the basic functionality you want. You can import and export video's, images and songs from your iPhone. You can create backups of your files, download your books and listen to your voice recordings.
The program supports quite a few features and we believe the features part of the program deserve a solid 9 out of 10.
Design and Ease of Use
The program looks very good. it's well designed and is intuitive to use. It has almost no learning curve and we thought that all the features you might ever want are easy to find and to use. the program is not trying to copy the iTunes style of imitate another iOS product which i love. We see this too much in these kinds of applications and we were happy not to see it here.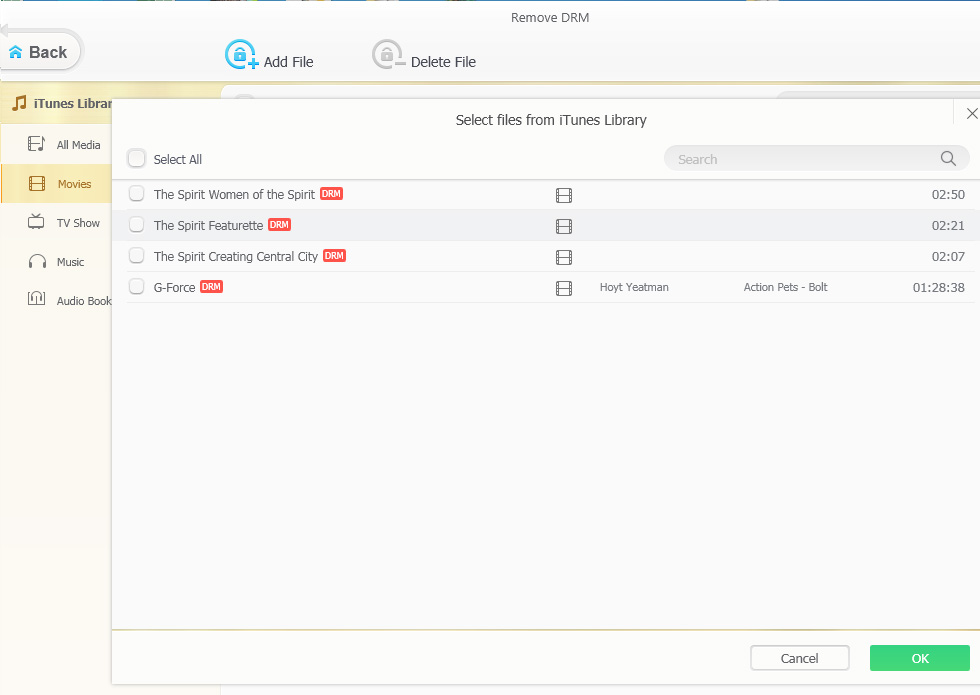 Overall we would score the program a solid 9 out of 10 on the features and we would score the design and the ease of use a solid 9 out of 10. There is a little room for improvement for example by adding an interactive tutorial at the start of the application but we didn't miss it that bad. They did add a button to all screens saying "Need help? Click here" so there is help available, we just missed the interactive tutorial. Overall we are very